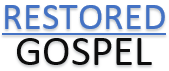 Scripture Context
Genesis 7:39 - Genesis 7:49
39 The Lord said unto Enoch, Behold, these thy brethren, they are the workmanship of mine own hands, and I gave unto them their intelligence in the day that I created them.

40 And in the garden of Eden gave I unto man his agency; and unto thy brethren have I said, and also gave commandment, that they should love one another; and that they should choose me their Father.

41 But, behold, they are without affection, and they hate their own blood; and the fire of mine indignation is kindled against them; and in my hot displeasure will I send in the floods upon them; for my fierce anger is kindled against them.

42 Behold, I am God; Man of Holiness is my name; Man of Counsel is my name; and Endless and Eternal is my name also. Wherefore I can stretch forth my hands and hold all the creations which I have made, and mine eye can pierce them also.

43 And among all the workmanship of my hands there has not been so great wickedness as among thy brethren; but, behold, their sins shall be upon the heads of their fathers; Satan shall be their father, and misery shall be their doom; and the whole heavens shall weep over them, even all the workmanship of my hands.

44 Wherefore should not the heavens weep, seeing these shall suffer? But, behold, these which thine eyes are upon shall perish in the floods; and, behold, I will shut them up; a prison have I prepared for them, and he whom I have chosen hath pleaded before my face;

45 Wherefore he suffereth for their sins, inasmuch as they will repent, in the day that my chosen shall return unto me; and until that day they shall be in torment.

46 Wherefore for this shall the heavens weep, yea, and all the workmanship of my hands.

47 And it came to pass, that the Lord spake unto Enoch, and told Enoch all the doings of the children of men.

48 Wherefore Enoch knew and looked upon their wickedness, and their misery; and wept, and stretched forth his arms, and his heart swelled wide as eternity, and his bowels yearned, and all eternity shook.

49 And Enoch saw Noah also, and his family, that the posterity of all the sons of Noah should be saved with a temporal salvation.