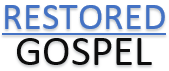 Scripture Context
Alma 3:34 - Alma 3:44
34 Or otherwise, can ye imagine yourselves brought before the tribunal of God, with your souls filled with guilt and remorse; having a remembrance of all your guilt;

35 Yea, a perfect remembrance of all your wickedness; yea, a remembrance that ye have set at defiance the commandments of God?

36 I say unto you, Can ye look up to God at that day with a pure heart and clean hands?

37 I say unto you, Can you look up, having the image of God engraven upon your countenances?

38 I say unto you, Can ye think of being saved when you have yielded yourselves to become subjects to the devil?

39 I say unto you, Ye will know at that day, that ye can not be saved: for there can no man be saved except his garments are washed white:

40 Yea, his garments must be purified until they are cleansed from all stain, through the blood of him of whom it has been spoken by our fathers who should come to redeem his people from their sins.

41 And now I ask of you, my brethren, How will any of you feel, if ye shall stand before the bar of God, having your garments stained with blood, and all manner of filthiness?

42 Behold, what will these things testify against you?

43 Behold, will they not testify that ye are murderers, yea, and also that ye are guilty of all manner of wickedness?

44 Behold, my brethren, do ye suppose that such an one can have a place to sit down in the kingdom of God, with Abraham, with Isaac, and with Jacob, and also all the holy prophets, whose garments are cleansed, and are spotless, pure, and white?